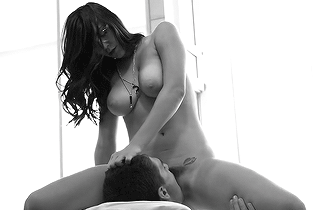 On an unseasonably cold Halloween Night, I was walking along the road, trying to get to my friend's house where a party was being held. The party was in honor of the fact that I had just purchased my first house and everyone was happy because finally the old General's house would have someone living in it. I had always loved that old house, and I had always said that I would buy it some day. I never really believed that I would have the opportunity to do it though.
When I rounded the corner I found, to my dismay, that there was a huge crowd at my friend's house. I was told that it was just going to be a small affair, but I guess I was mistaken. Before I can retreat and leave though I am grabbed and brought further into the melee. My friend spots me and comes over right away.
"I am so sorry! This was just supposed to be a small gathering, and then we were going to go over to your new place, but when everyone heard that you had bought the General's old place, they all wanted to come. If you would like to not have everyone at your place, that is very understandable."
I look around at the huge gathering and mentally shrug my shoulders. "I understand. My new house has been the neighborhood's eerie, creepy place since anyone can remember. I am just glad that I was able to buy it and get it fixed up so quickly. Just let me run home and get some things put out. If you want to come by at about 9:00, that would be great. I would love to show off the house."
"Mira…Everyone says that the place is haunted. Have you seen anything yet?" I laugh and shake my head. "There is a story that if a lady is alone there on Halloween, the General comes to visit her. He is looking for the witch that put the curse on him that gives him eternal youth, on Halloween and only on Halloween. It is said that if he can find her and make love to her, then he will be able to stay a young man and not return to the grave at the end of the night."
"Honestly, do you really believe in that? Just for that, I, a virgin, will stay there tonight and see if the General actually does come. If he does, I hope that he's in full uniform."
"Mira! How can you talk like that? I know that you are a virgin, but are you serious about staying there all night alone?"
"What is different about tonight than any other night? I have spent plenty of nights there alone and I have seen or experienced nothing. I am hoping that tomorrow morning will bring a changed lady to light. I am tired of being the last virgin in the area. I would love it if he would come and make me woman full and true." I can see that my friend is truly shocked at what I just said, but it is the truth. I am tired of still being a virgin. Maybe the General can take care of the problem tonight. Turning from my friend I make for the nearest door and exit the madhouse that is the party that she is hosting.
I practically run back to my house. When I get back I notice that there is a light on in the bedroom that I do not remember leaving on. Quickly I run up the stairs to the second floor. As I open the door to the bedroom, a part of me notices that it is not the electric light that is on, but an oil lamp that I left next to my bed. That wasn't the surprising part though. There was a young gentleman sitting on the end of the bed in period clothes. As I enter the room, he looks up at me.
"Please tell me that you are the one that I have been searching for." His voice has a wonderful soft Southern drawl to it that just makes my knees weak.
"I hope that I am. I have heard stories of the General. Are you him?"
"I am."
"Then please, do what you will to me and see if I am the one that you are searching for. I would have you make me a woman tonight, Sir."
"You are a virgin?"
"Yes."
"Then come. Let us make love and see if you are indeed the witch that has placed this curse on me."
"What must I do?"
Standing, he walks over to me and gently pulls me into the room further. Quickly he helps me out of my clothing and lays me down on the bed. "Just lay there and I shall do the deed. Spread your legs for me and I shall come to you. Close your eyes for I would not have you fearful escort izmit of me. I am quite large for a virgin, and the last one was a terrible experience for she saw me and grew scared. I would have this be a night of pleasure, not a night of rape." Laying back on the bed I notice that he is a very good looking young man. The last thought I have before I close my eyes is that I feel so removed from what is going on. It almost feels like I am just a spectator watching all of this happen.
I feel the bed dip under his weight and then I feel his body cover mine. When I feel his manhood between my legs I sigh in pleasure. He is very large, but I somehow know that he will be gentle with me. As he presses it into me I feel it enter me and somehow I know that I am going to be the one that he has been searching for. Tearing my virginity apart as he enters is a feeling of relief and I cry out in pleasure. Pulling out he rams back into me. I now understand why my friends have been after me for so long to at least have an affair. Every time he presses into me it is like fireworks going off in my head.
Suddenly he stops. With a cry I see a shimmer form around him and he falls down on top of me. When he presses himself up I see a difference in him. Immediately I know that the curse has been lifted. A look of wonder is on his face.
"I cannot remember when I felt actually alive! Thank you my virgin!" With that he pulls out, only to slam into me harder than he did before. With each thrust he gets harder and more intense until finally he stops inside of me. I can feel him erupting as I reach my first mind-shattering orgasm. Pulling out he rolls over to the side and lays there breathing very heavily. "My Lady! How can I ever thank you for what you have done for me? I am now free of the curse and free to live the rest of my life."
Wouldn't you know it? At that moment there is a knock on the door. "Oh my! I forgot! My friends were coming over to see the house! I have nothing ready!"
"My Lady, I would help you. Please tell me what you require of me."
Frantically I think for a minute. "Go down and let them in. Tell them I will be down in a minute as I am just finishing my costume. If you would go into the kitchen and find the veggie tray I'll be down before you have to put anything else out. Thank you so much!" Quickly I turn back to him as he gets ready to leave the room. "By the way, what is your name?"
"I'm sorry, Ma'am. My name is Jeremiah. I shall do as you have requested." With a slight bow he is out the door and I hear him going down the stairs.
Quickly I get into the dress that I had set aside to wear tonight. It is a period dress and will look very nice with Jeremiah's uniform. Thankfully it is very easy to get into. In just a couple of minutes I am exiting my room and walking down the central staircase. Looking down I see Jeremiah talking with my friend Becky. Hurrying down the final few steps I reach out for Becky and bring her into the kitchen with me.
"Becky! You were right! It was awesome. He's the General." I knew that my friend would be shocked, and I was right. "I know that I said that didn't believe in ghosts, but after tonight, well I have no reason not to. He was awesome! It was amazing to see the curse be lifted from him and feel him become, well, normal."
"Are you saying that he already fucked you?" I nod my head. "Wow! He works quick. Tell me, was it any good having sex with a ghost?"
I grin at my best friend. "It was wonderful! He was wonderful. Now, though, I don't know what I am going to do with him. He is human again, so I am not sure how to proceed."
Just then, out of the corner of my eye, I see Jeremiah come to the door of the kitchen. From the look on his face I can tell that he wants something. "Yes, Jeremiah?"
"Can I see you alone for a moment?"
I turn to my friend. "Becky, can you put out the munchies? I'll be back in a minute." Becky nods and we go into a back room that I have made into a guest room.
Throwing me down onto the bed, he quickly loosens his pants and throws my dress up to my waist. "My Lady, please, I feel that I need to make love to you again. izmit darıca escort I feel so different than I have the past nights that I have materialized. Please, let me." From the urgency in his voice I can tell that he is, indeed, scared that something will go wrong and he will return to the grave at the end of the night.
"Jeremiah, Sir, you may." With those few words spoken he rams himself into me and kisses me hard at the same time. Very quickly I can feel him cumming in me and I know that by morning I am going to be very sore.
Very soon we are back out to my guests and I am giving them the tour of the renovations that I have made. When we get to the backyard I notice that there are about ten other Civil War costumed men milling about. One of them, upon seeing Jeremiah, saluted and proceeded past us. I guess that in helping him come back to life I have helped others in his unit as well.
After everyone has left, Jeremiah calls the rest of his men together and talks to them for a few minutes. Before coming to me I can see that he is telling them to wait for his signal.
"My Lady, I am afraid to say that even though you have helped me get my life back, I do not even know your name."
I chuckle, for that thought had occurred to me as well. "I am Mira. My parents had a very interesting streak in them. I was born on Halloween, and my mother decided to name me after the one lady in her past that everyone considered a witch." I shrug. "Maybe I am a bit of a witch if I was able to bring you back to life."
"Thank you, Miss Mira. I assume that by now you have figured out that these are my men. Unfortunately they have the same curse upon them, with one difference. They were cursed by the same witch. After I have become human again, they have but that night to fuck the same woman to become real as well. If they do not before the sun rises, then they are doomed for eternity to walk the graveyard where they are buried."
"So, Jeremiah, you are telling me that before the sunrise I will be fucked by ten more men?" I have to stop and think about this. Do I really want to be fucked that many times in one night? "Have them come upstairs one at a time. You must be there though to make sure that your men do not get out of control." What am I doing? Am I out of my mind? In 5 hours I will be fucked by ten ghosts that will turn into real men. Then what do I do with them? I am insane.
"Miss Mira, I know that some of these men will want to fuck you in the ass. Would you have a problem with that?" Stunned, I never thought that they would really do that, I look over at Jeremiah. "If you would like, I could go first and get you ready for that, for I have witnessed it being done and I can tell you that it does hurt the lady until she is use to it."
Quickly I think about it. "No, Jeremiah, but thank you. I would just rather have them come and get it done. Please bring the first gentleman with you, as I will be ready in a couple of minutes. Bring them to the back bedroom on the first floor though. That one is the guest room." Turning, I walk back into the house and go directly into the bedroom to take off my clothes. Taking a deep breath I do not hear Jeremiah come in behind me.
"Mira, thank you. You do not know how much it means to me, knowing that my men will finally have the curse lifted from them as well." Putting his hands on my shoulders he can feel me trembling. "If this gets to be to much for you, then I will stop it. You do not know how much I hate to ask this of you, for I can tell that you are, in fact, a lady. You should not have to do this."
Turning towards him I rest my head momentarily on his shoulder. "When you get to know me better, you will find that once I have said that I will do something, I will do it. How should I be positioned for the first one?"
Without giving it a single thought he tells me to get on my hands and knees. "That way, as soon as one has been freed of the curse, the next one can come in. For the ones that enjoy the ass, that is the best position for them as well." He motions for the first one to come in. "Here is Obadiah. He is my right hand man. I could do nothing izmit rus escort with out him. There were many times after a battle that he would find me and patch me up."
I feel someone grab my hips and before he can slam is cock into me I hear Jeremiah tell him to take it easy. "But, Sir! Isn't she the witch whore that put that curse on us?"
"Obadiah, she was a virgin before I took her. Be easy on her."
"Yes, Sir." With that he presses into me and I have to groan as I feel his manhood go all the way in. Before I can get use to it though he is pounding in to me over and over again. Without looking at him I can see the shimmer and I know that his curse has been lifted. Jeremiah must have done something, because before I feel him cum he pulls out. Breathing heavily he backs away. "Thank you, my Lady. You have given me back my life." With that he straightens out his clothes and leaves the room.
Before the next one can come in Jeremiah comes over and sits on the floor by me. "I thought I should warn you. The next one is known to be a little rough and to not pay any attention when the girl is screaming. He is also one that like to put it in the ass."
"Thank you for the warning. Hopefully I won't be screaming, but don't worry. I can take it. Please, just be here for me, that's all I can ask right now." Without any warning I feel two hands on my hips and a manhood pressing against an opening that I never thought to be anything other than an exit. I gasp at the sheer size of this manhood, for it feels larger than anything I had imagined.
"Mira, just relax." Looking at the man behind me he admonishes him to be gentle with me. "I am right here, Mira. I will not leave you." I feel this huge manhood press against me and I can feel the pain start. "Just breathe, My Lady, and soon it will be done." Harder and harder he presses against me, and just when I think that he is to big and it won't fit I feel it slip inside. With a scream I tense up and pull forward. "Timothy, stop! Give her a minute." I shake my head and Jeremiah tells him to continue. Pulling almost all the way out he shoves himself back in hard and I bite down so that I won't scream. Harder and harder he rams himself into me until I see the now familiar shimmer. With a cry he pulls out and leaves.
As I am trying to catch my breath, I look over at Jeremiah and I can see that this is not easy for him to watch. Finally I get the chance to ask what I have noticed. "Why are they not cumming in me as you did? Is that not part of the lifting of the curse?"
"My Lady, none of the men will spill their seed into you in case you are to become pregnant this night. They want to have the knowledge that the child is mine." Pregnant? I hadn't even thought about that. Stunned, I do not feel the next man come in until he is pressing into me. For the rest of the time, I am in shock. I do not hear anything that is said between Jeremiah and his men until I feel another manhood pressing against my ass. "My Mira, are you back with me? I know that you have been in shock, but please come back to me. This is the last man, and he is wondering if he may fuck you hard. The sun is almost rising, My Lady."
I look back and I see this young man standing behind me. He had to be just in his early 20's. "Fuck me hard and make me scream." That is all that he needed to hear. Slamming into me he tears a scream out of me. "Yes! Fuck me harder!" Pain swirls around me almost like a mist until I see the shimmer and I know that he made it and he is a real person now as well. Quickly he pulls out. I never see Jeremiah lean forward to catch me as I fall to the ground.
Gently he picks me up and places me on the bed. His men all come into the room and look down at me as for a moment I transform into the witch that cursed them and then I am back to myself. Gently, one of the men picks up the comforter that is folded on the end of the bed and places it over my ravaged body. As they watch, a shimmer comes over me and they hear the witch's voice: "Because she has been the one and has helped you all, she will only suffer the effects of the General. It will be as if none of you had fucked her this night." With that, the curtains flutter at the window and all is still. Filing out of the room the men take one last look at me and then at their General and they all know that he loves me. They all go out onto the porch and watch the first sunrise that they had seen in many years.